The Ultimate Guide To Visiting The Cotswold During COVID-19
The Cotswold, an area of natural beauty located two hours from London and a part of the country that I've always wanted to visit, but never had the guts too; until last month that is. Read on below to see my Ultimate Weekend Guide To The Cotswold, including all of the must-see villages and a surprise side trip to Bampton.
As a hijabi, I've always been scared of how out of Londoners who are not used to diversity would treat me. But how wrong was I? I met some of the kindest people and had some of the best laughs in months. Which makes sense, as The Cotswold is an area accustomed to tourists. It's just a shame that it took COVID to come along for me to finally make the trip.
Where To Stay In The Cotswold?
Cirencester, Central Cotswold
For the ultimate English getaway, we opted for an Airbnb Cottage in Cirencester, which is often referred to as the Capital of The Cotswold.
By choosing this accommodation, it meant that we were perfectly located to visit all of the main sights on my lists. Not to mention the fantastic views we woke up to, topped off by the hospitality of our wonderful hosts. During these times I'm actively looking to support the smaller businesses, which is why I opted for an Airbnb instead of a hotel, but that doesn't mean I compromised on quality, comfort nor cleanliness.
Nearest Train Station from London: Kemble station
---
Tip: If booking during COVID-19, ensure that the property has the 'Enhanced Clean' status, as it means that the hosts have committed to Airbnb's rigorous set of cleaning standards in-light of COVID.
---
Tip: If booking in the summer, look for a cottage with a garden, or if booking in the winter, look for a cottage with a log fire for a cosy evening in.
---
Chipping Campden, North Cotswold
This is a very quaint town with Harry Potter vibes. It is a perfect base for anyone wanting to be close to restaurants and the North of The Cotswold. It's also very close to Broadway Tower which is a perfect spot to watch the sunset.
What To Do In The Cotswold?
Bibury, The Definition Of The Cotswold
After a hearty breakfast, set out nice and early to one of the most picturesque fairy-tale-like village, Bibury. It's home to Arlington Row, which houses cottages that were originally built in the 1380s as a Monastic Wool Store. It's so easy to see why this view is the backdrop to many movies including Stardust. Photography lovers, have your camera at the ready!
---
Tip: If parking isn't available as you're driving into the village, turn left when you get to The White Swan Hotel and there is a paid car park on the left.
---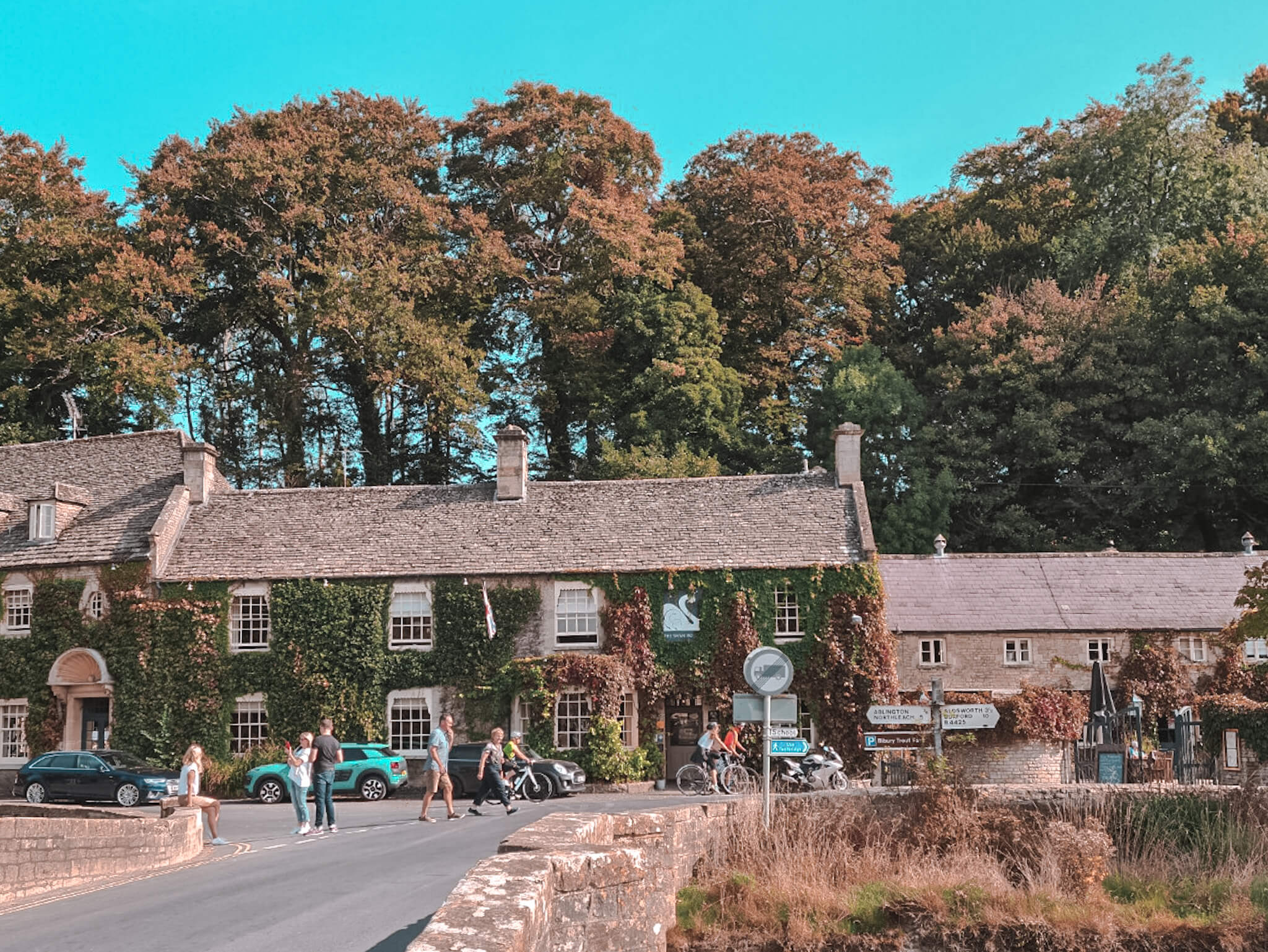 Start from The Swan Hotel, and take in the views of the River Coln and the Swans that populate it. Don't forget to look out for the trouts that may be in the water. Or if you want a fuller experience, visit The Trout Farm.
Then walks towards Arlington Row following the main road along the riverside. Don't forget to have a traditional photo opportunity on the bridge with the row of cottages lined up neatly behind you.
Be sure to check out the quaint shops before crossing over the bridge towards Arlington Row. Once you reach the end of the row, turn right to circle back.
---
Tip: Optional walk, walk up the hill instead of turning right to circle back to the parking area.
---
Where To Eat In Bibury, Cotswold?
Luckily we visited on a hot summer's day, so an Ice cream was enough for us. However, if you would like to have a meal, make sure to make a reservation at The Catherine Wheel pub.
Bampton, East of The Cotswolds
For the Downton Abbey lovers, take a side trip to the village of Bampton to see some familiar sights. It houses Lady Crawley's and Matthew's house, also known as Churchgate House. As well as St Mary's C of E Church which is often featured in the show. Luckily they are next door to each other.
Once you're done admiring The Church and Churchgate House, make sure you walk around the village exploring the quaint cottages draped in all manner of plants and greenery before heading off. Look out for the thatched-roofed cottages too.
---
Tip: If the gates to Manor House located on the main road is open, peep in for a quick look at how the other sides live. Although there is no sign to say this is private property, I wouldn't advise you to roam the grounds.
---
Luckily for us, the gates of The Manor House were open. Being two naive out of towners, we went through to explore the grounds thinking it would lead us to the Church and House. We ended walking down the perfectly manicured pathway until we ended up at the vegetable garden. It was at this point we realised we probably shouldn't have been there, so we rushed back out. But oh my was this a pretty manor!
Bourton-On-The-Water, The Venice of The Cotswolds
Bourton on The Water, also known as The Little Venice of The Cotswold. This is going to be the busiest village you will visit on this trip. With its ever-flowing river and cobbled bridges, it is easy to understand why.
---
Tip: Park away from the main village and then walk down.
---
I would advise you to walk into the village on one side of the river and walk back out on the other. If you started on the right-hand side, follow the path until you reach a little quarter. Filled with quirky shops, wander here for a spot of light shopping. You'll be able to purchase, candles, soaps crystals, jewelry, etc.
Once you've had your fill of exploring this side, I would recommend crossing over the bridge to the other side of the river to explore some more shops and restaurants.
---
Tip: Purchase a Cornish pastry, fish & chips, or anything else, and settle down along the riverside for a spot of lunch. If the weather is pleasant top it off with a Rhubarb and Custard ice cream from any of the Ice Cream stands for a very British experience that you won't regret.
---
Be sure to visit The Model Village if you want to see a replica of Bourton-On-The-Water, with mini gardens and all. Lastly, make sure to pick up some fudge before leaving the village. I brought two packets home, and my family demolished it!
Upper and Lower Slaughter
For a scenic walk and drive, be sure to head to the Slaughters. For starters we parked up by The Slaughters Manor House and went for a leisurely walk around the River Eye.
Once you've had your fill be sure to drive around to explore the quainter areas. Luckily we stumbled upon some patchwork hills, a sight I have always wanted to see ever since I was a kid and saw a drawing of it on a children's book.
For the cherry on top, we saw two cattle get into a fight with the entire herd chasing them. It was definitely a sight to see nature do 'it's thing'. This was honestly one of the most joyful moments for me, where we parked up alongside the road and had Boy in Luv by BTS playing in the background whilst we took in the sights.
Stow-On-The-Wold, Highest of The Cotswold Town
Stow is a market town sitting atop an 800-foot hill with roots dating back to the Romans, it is definitely another picturesque town that makes The Cotswold what it is.
It's filled with shops and cafes and lots of narrow little roads to explore on foot. However, we were here to eat, and boy was it worth it.
Introducing, The Old Bakery Tea Room! Run by Alan and Jackie, oh my do they know what they are doing. If you do come here make sure you opt for the cream tea. Jackie is the wonder-woman whipping up the delectable scones and clotted cream behind the scenes, and in every bite taken, it is so evident that it's made with a lot of love and care.
---
Tip: Make sure to make a reservation in advance, as walk-ins are not being accepted during COVID.
---
Honestly, the cream tea on offer here was just amazing and you will not regret it. The scones were incredibly light and fresh, and the cream and jam with a fresh pot of tea on the side just completed the experience. Not to mention Alan's kindness and vibrant personality. He made a point to engage with every one of his customers and made us feel incredibly welcome in his part of town, so much so that we left with a smile on our faces.
Broadway Tower
After a day filled with walking and eating, head down to Broadway Tower to catch a view of the villages from up above. Once you've parked up, you will have to walk back out onto the main road to access the tower, though you will have to pay a ticket to access the site. It can also be pre-booked in advance on their website.
---
Tip: Bring a coat! We visited on the evening of a hot summer's day and ended up shivering the whole time. It is very windy up here.
---
If you don't fancy paying for the ticket, do what we did and just stay in the parking area and take in the sunset if you're there in time for it, before calling it a day.
---
Tip: forgot to make a reservation and can't find anywhere to eat? locate your local McDonalds, and head there.
---
Though if you still have room for dinner, head to Broadway or it's neighbouring village Chipping Campden. Like before, ensure that you make reservations beforehand as we were turned away from EVERY restaurant in Chipping Campden as we didn't have a reservation.
Fries and Mozarella Sticks was our humble dinner for two nights in a row.
Get some well-earned rest before topping the weekend off with a Trip to The Cotswold Water Park before heading home.
---