If you're after a unique experience that will stay with you for a long time, then be sure to visit Chiang Mai in the north of Thailand, during the Yi Peng Lantern Festival.
Whether you want to bring Disney's Tangled to life or experience a unique cultural experience of floating lamps, chanting monks, and free-flowing food, there is something here for everyone.
---
What Is Yi Peng Lantern Festival?
The Yi (or Yee) Peng Lantern Festival is a festival that's celebrated in the Lanna Kingdom i.e. Northern Thailand. Which consists of Chiang Mai, the ancient capital of the former Lanna Kingdom.
Yi means 'two' and Peng means 'full moon day', referring to the full moon day of the 12th month in the Thai Lunar calendar. Whilst the lantern festival is celebrated only in the northern Thai regions, it coincides with Loy Krathong which is celebrated on the same day across the entire Thai kingdom. As part of the celebration, lanterns are floated into the sky.
TIP: The 12th Month of The Thai Calendar usually falls around November. Note that the exact date will change every year.
With double the festivities, this is truly a time when Chiang Mai comes to life. Be sure to partake in the events happening across the city, if you do plan to visit Chiang Mai for the lantern festival.
---
What is Loy Krathong?
Unlike the Yi Peng festival, Loy Krathong is celebrated across the entire Thai kingdom and the neighbouring countries that share the Southern Thai culture. However, if you are in the northern regions, you will be able to celebrate both.
Loy Krathong is the festival of lights where Loy translates to 'float' and Krathong translates to 'the vessel or lamp'. As part of the celebration, a banana trunk is decorated with flowers, banana leaves, a small candle, and incense sticks, and is then floated on the river.
If you're visiting Bangkok during this period, be sure to head to the flower market to see the hustle and bustle in the lead up to the festival.
---
---
How To Book Tickets To The Yi Peng Lantern Festival
Chiang Mai is the most popular city to experience the Yi Peng Lantern Festival, and with it's rising popularity there's now many locations to choose from to attend the festival.
Due to the rising demand ensure that you book your tickets well in advance as well as your hotel. Chiang Mai will be overloaded with tourists and locals returning home during this period, so do not overlook the importance of booking early.
---
Popular Yi Peng Ticket Sellers
Event Name: Chiang Mai CAD Khomloy Sky Lantern Festivals
Capacity: 3000 seats
Location: CAD Culture Centre Lanna Ethnicity (Sankampaeng)
Ticket Price

Premium: 6400 THB
VIP: 5900 THB
Standard: 3200 THB
---
Event Name: Northern Study Center (Mae Rim)
Capacity: 3000 seats
Location: Northern Study Center (Mae Rim district)
Ticket Price: 4769 – 6673 THB
---
Where To Stay During The Festival
In order to experience the festivities, I would highly recommend that you stay within the Old City. Most of the events happening including the parade and food markets will all be around the Old City. Click here for a map of the Old City.
For the most popular hotels and hostels, be sure to check TripAdvisor's list of hotels near Yi Peng and Loy Krathong.
---
What To Expect On The Day Of The Lantern Festival?
Yi Peng Festival Dress Code
It's important to remember that even though the atmosphere may be buzzing with a festive vibe, it is still a cultural event that must be respected.
Like other cultural places in Thailand, there is a dress code in place. Ensure that you cover your:
Shoulders
Knees
And everything in between
TIP: Traditional Lanna Clothing is encouraged
---
Getting To The Yi Peng Lantern Festival
Taxi Price & Traffic Mayhem
On the day of the festival, expect taxi prices to hike and the traffic to be jammed pack. If you can prearrange your taxi and agree on the price beforehand, then do so.
TIP: ensure you add at least 30-60 mins to the usual travel time to reach your meeting point.
---
At The Meeting Point
Depending on whom you book with, each ticket seller will have their own meeting point. This is also probably the moment where you will realise how poor some of the organiser's are. So to ensure you are well prepared here is what to expect.
If you've booked with Top Destinations, here's what expect:
Upon booking your ticket you will be provided with a 2 lettered code
Upon arrival at the meeting point, you will be directed to a tent depending on whether you booked a Premium, VIP, or Standard ticket. As expected the Standard ticket tent was the busiest
When your code is called out, you can then approach the front to register and collect your event badge.
Once you have your badge you will then be directed to a Tuk Tuk which will shuttle you to the event.
TIP: Be prepared for an hour-long drive to the event as the traffic will be horrendous.
Full disclosure: on the day of my visit, there was only one tent serving the standard ticket holders. This meant that the queues and event organisation were horrible, so be prepared to wait. However, when my friends went the next day, their experience was a lot smoother.
---
At The Festival
Entertainment
Upon Arrival at the lantern festival, there is lots to see and do, including:
Thai Boxing Show
Traditional Sword Dance
Lanna Culture Show
Music Performances
Sparklers
Shopping
Instagram Opportunities
---
Food
Whilst walking around you will find lots of individual stands selling all kinds of snacks and treats. However, the main event is the food area, which is separated into two sections, Premium/VIP and Standard. If you plan on eating with others, ensure that you purchase the same ticket type.
The layout is endless rows of tables with floor seating. Along the outside of the seating area, are endless tables of food and drinks. Of course, there is a queue here that seems to move very slowly if you're hungry.
TIP: There is no halal meat served here, and there are hardly any vegetarian food options. If you have dietary restrictions, bring your own snacks!
---
Lantern Launch
Around 7.30 pm you would start to see individuals heading to the main event's seating area. There will be seating charts directing you to your seat. (Your event badge will also have your seat on it).
TIP: You will find your lanterns under your seat waiting for you
When the event commences, it begins with a ceremony conducted by the monks that involve chanting and meditating. By the time this is complete, it should be approaching 9 pm, which is around the time that all flights will be suspended for the day.
TIP: Do NOT light up your lantern and float it before you are instructed to do so. This is a hazard to both those around and in the air above you!
---
How To Launch A Lantern At The Yi Peng Festival
After every other seat, there is a flame holder. A member of staff will light up the flames at the end of each row, and it will be your responsibility to pass it onto the next flame holder.
Once and only once you've been instructed to light up your lantern, open up your lantern and push out the sides to allow air to fill it up.
TIP: Take your time to puff out the sides, as you won't be able to do this once your lantern is lit.
Once you're happy with your lantern, you can then bring it to the flame and hold it there for a couple of seconds to ensure it lights up.
TIP: The lanterns are quite large to hold, if you're travelling alone, rest assured that those around you will be more than willing to offer help!
When you're comfortable that the lantern has a fire going, hold the lantern straight up to allow air to fill it.
TIP: Do not hold the lantern at an angle, as the flame will start to burn through the sides
Once it's filled with enough air, it should be able to float straight up. Do not hold onto it for any longer than you should for a photo opportunity, as the lantern WILL catch fire. Not to mention that you will have to stamp it out whilst putting everyone else's safety at risk.
TIP: Keep an eye out for any other lanterns that may float your way. Some people may release their lanterns too early, whilst others may release it too late, causing a fireball to head your way.
---
Eco Friendly
Whilst the lantern festival may not be the most eco-friendly festival, the organisers are making a more conscious effort to make the event eco-friendly.
For starters, they have begun to make the lanterns out of biodegradable materials, and they host the lantern festivals in secluded areas to minimise the impact on the surrounding nature.
TIP: The police force and local organisers have made it illegal to light up a lantern anywhere in the city outside the designated areas.
Additionally, they run a mass clean up the next day.
---
Leaving The Festival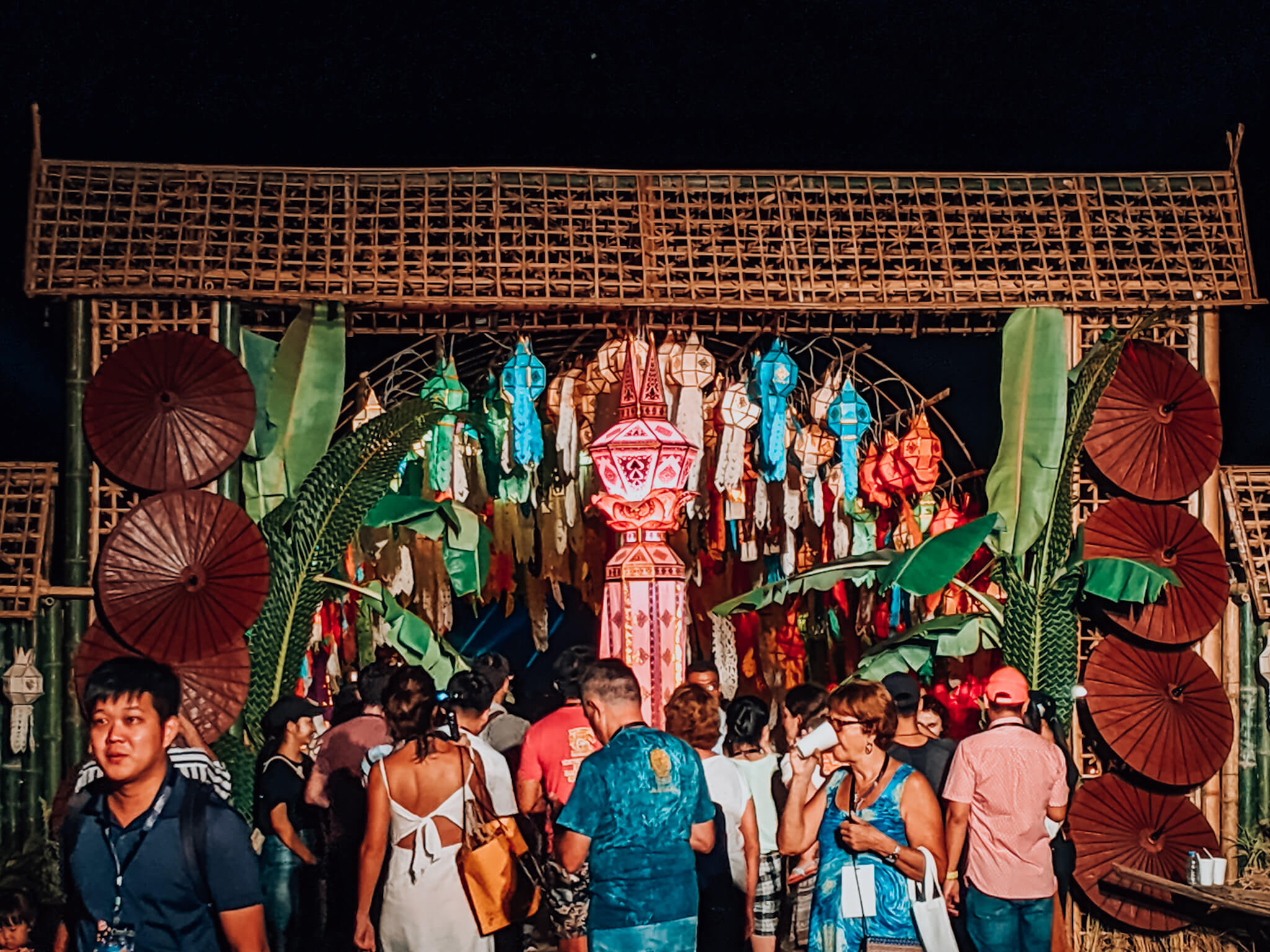 Once the lanterns have been lit, and the festival comes to a close, there is nothing else to see and do. Which means there are 3000 people about to head out through one exit!
If you weren't tired of the queues already you're about to be. Regardless of what type of ticket you purchased, everyone is fighting for the same vehicle. Be prepared to stand for around 2-3 hours before getting a seat in transport back to the city. If you book with Top Destinations at least.
Due to the traffic being absolutely crazy, and the secluded location, you won't be able to book a Grab or Uber. Your hotel will also be very unlikely able to send you a taxi if you were to contact them after the event.
TIP: Arrange for a pickup before heading to the event, and try to leave before the majority of the crowd does.
---
Have you been to the lantern festival or is it on your bucket list? Share your thoughts down below!
---